22mm Pine Exhibition Stretcher Bars
Are you looking for the ultimate quality stretcher bars for your canvas prints? If so, we guarantee you won't find better anywhere else.
Each ProForge™ kiln-dried heavy European pine stretcher bar is precision-made to the highest specifications and offer you the tightest possible fit and easiest assembly possible. The ProForge™ pine stretcher is made from kiln dried timber which is carefully selected to eliminate knots and ensure a perfect match with each and every bar. These bars are "dead straight" and not subject to warping and will lie 100% flat against the wall.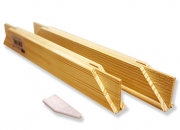 ProForge™ Pine Exhibition 22mm Stretcher Bar - (Singles)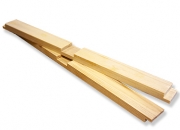 ProForge™ Pine Exhibition Stretcher Bar - (Cross Braces)